Violaceae . . . . . Violet family
---
Viola . . . . . . Violets
Choose between the following 6 Violets and 4 Pansies.
---
Violets: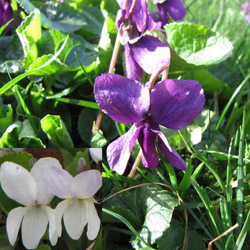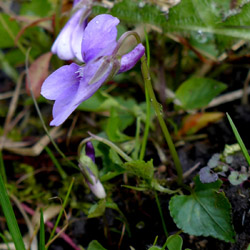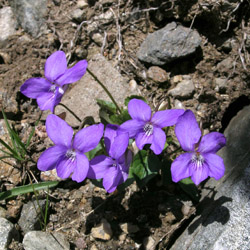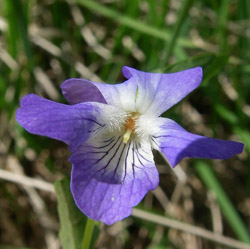 Sweet violet
Early dog violet
Common dog violet
Heath dog violet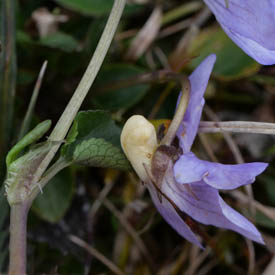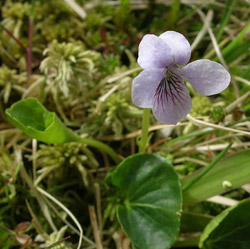 Pale Dog violet
Marsh violet
Note that
V. riviniana
and
V. reichenbachiana
have a rosette of lvs, the other dog violets do not
Note that there are a number of other rare spp, e.g.
V. rupestris
(Teesdale violet) with hairy leaves and is rare on limestone in N En and
V. hirta
(Hairy violet) with hairy lvs and blue-violet fls
---
Pansies: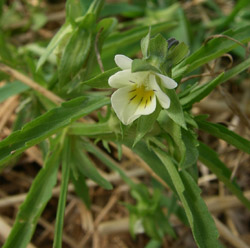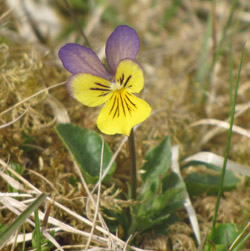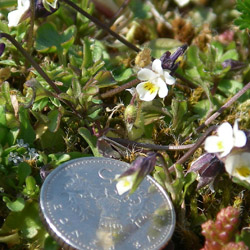 Field Pansy
Pansy
Mountain pansy
Dwarf pansy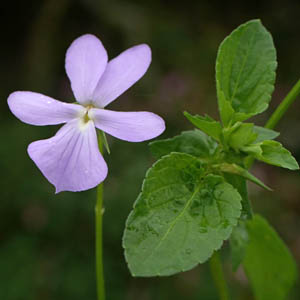 ---
Viola arvensis . . . Field Pansy
Usually yellow/cream (c.f. V. tricolor which is larger and usually has some blue or purple), sepals as long as petals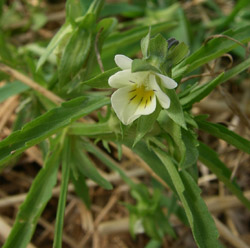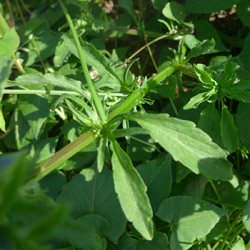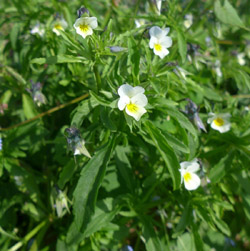 ---
Viola canina . . . Heath dog violet
V. canina has bluish flowers and yellowish spur; widely distributed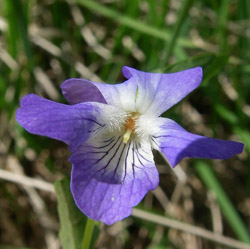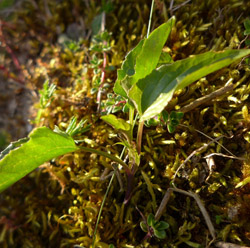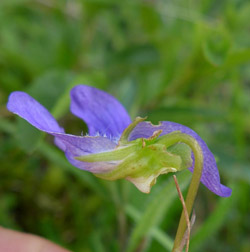 See also V. lactea.
---
Viola cornuta . . . Horned violet
An alien scattered uncommonly esp. in NE Sc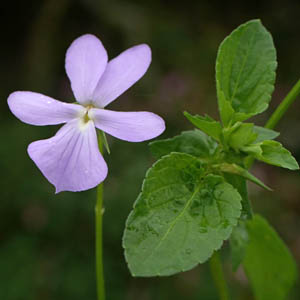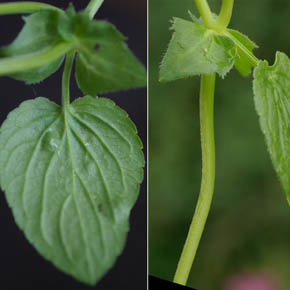 ---
Viola kitaibeliana . . . Dwarf pansy
A tiny plant with flowers often much <5 mm; very local in short turf by the sea Scillies and CI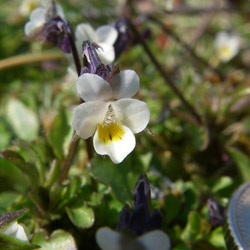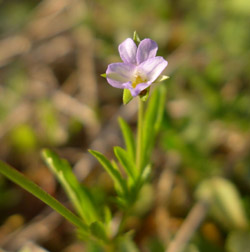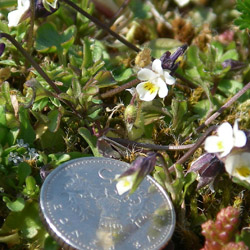 ---
Viola lactea . . . Pale dog violet
V. lactea is a local sp on dry heaths S & W from Anglesea to the New Forest and scattered in Ire; short pale spur and stipule of upper lf longer than petiole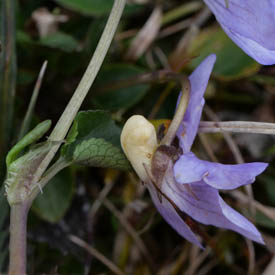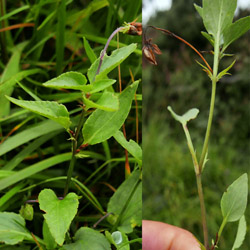 ---
Viola lutea . . . Mountain pansy
Can vary from yellow to purple; stipules at base of lf stalk like lobed lvs; Quite frequent on base-rich mountains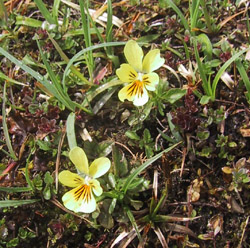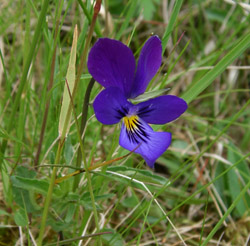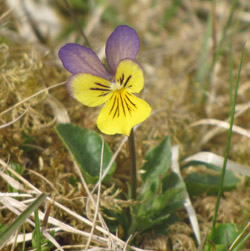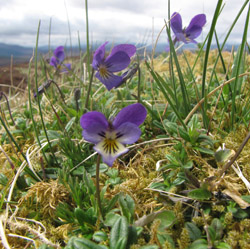 ---
Viola odora . . . Sweet violet
Flowers early, with large leaves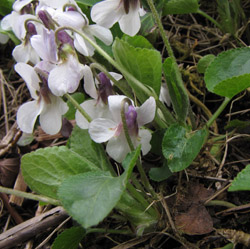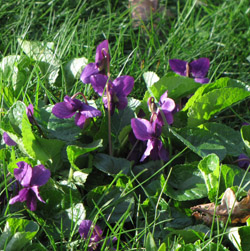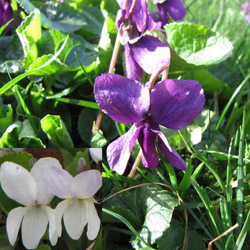 ---
Viola palustris . . . Marsh violet
Bogs, marshes and wet heaths, also on mountains in Ire and W & N of Br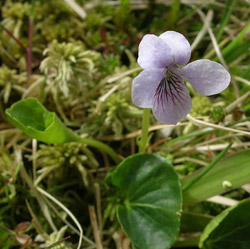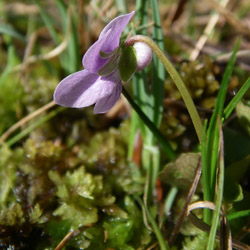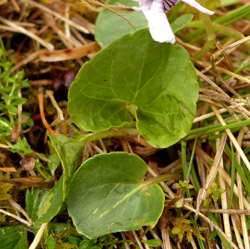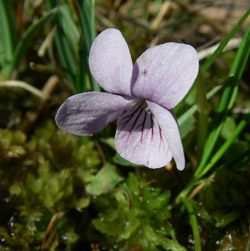 ---
Viola reichenbachiana . . . Early or wood dog violet
Straight unnotched spur darker than petals; woods and hedges; common in S Br and Ire but almost absent from Sc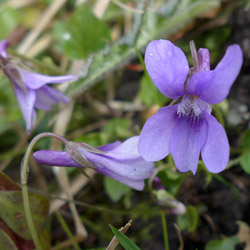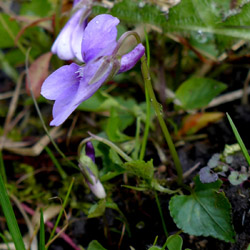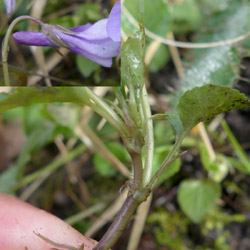 see also under Viola riviniana below

---
Viola riviniana . . . Common dog violet
Very common over all BI; Note that V. riviniana (common dog violet) has overlapping petals and curved, creamy spur, notched at tip vs. straight, dark unnotched spur in V. reichenbachiana (wood dog violet)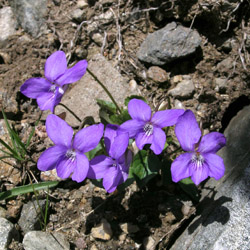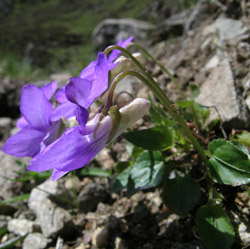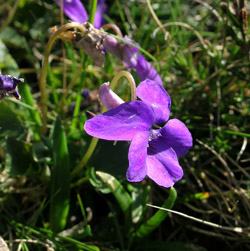 ---
Viola tricolor . . . Pansy
Common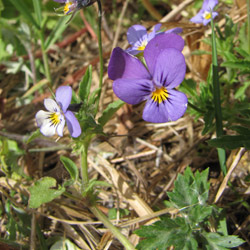 ---
---